About Urban Air Adventure Park Franchising
Above & Beyond a Trampoline Park
In a landscape dominated by cookie-cutter trampoline parks, Urban Air Adventure Park offers something new, exciting and refreshingly different. Don't get us wrong. We love trampolines. All our family entertainment centers have them. Urban Air Founder, Michael O Browning Jr., even claims he can do a triple backflip on one (though we've never seen any evidence of this.) But trampolines are not all we offer. In fact, trampolines make up less than 20% of the attractions inside our parks.
We have a unique mix of attractions that keep guests coming back time and time again. (That's what we call "repeat rate" in the family entertainment center industry.) They come to Urban Air Adventure Park to simulate skydiving, navigate challenging obstacles, dominate in laser tag, celebrate epic birthday parties, climb walls and slam dunk. At Urban Air, the sky's the limit.

Recognizing the need for a place that helps kids celebrate, escape and have fun, Urban Air Founder Michael O Browning Jr. opened the first Urban Air Adventure Park in his hometown of Southlake, Texas in 2011. He quickly realized he was onto something and began franchising the Urban Air experience in 2014 so that communities around the world could offer families innovative indoor amusement parks.
Today, Urban Air has more than 290 parks open or in the pipeline. And we're just getting started! Urban Air has ranked #1 in the Adventure Park/Entertainment category onEntrepreneur magazine's Franchise 500 for five consecutive years.
Here's the cool part: You can be a part of our exciting story.
We're looking for bright individuals who want to get into the business of fun. If that sounds like you, we'd love to hear from you!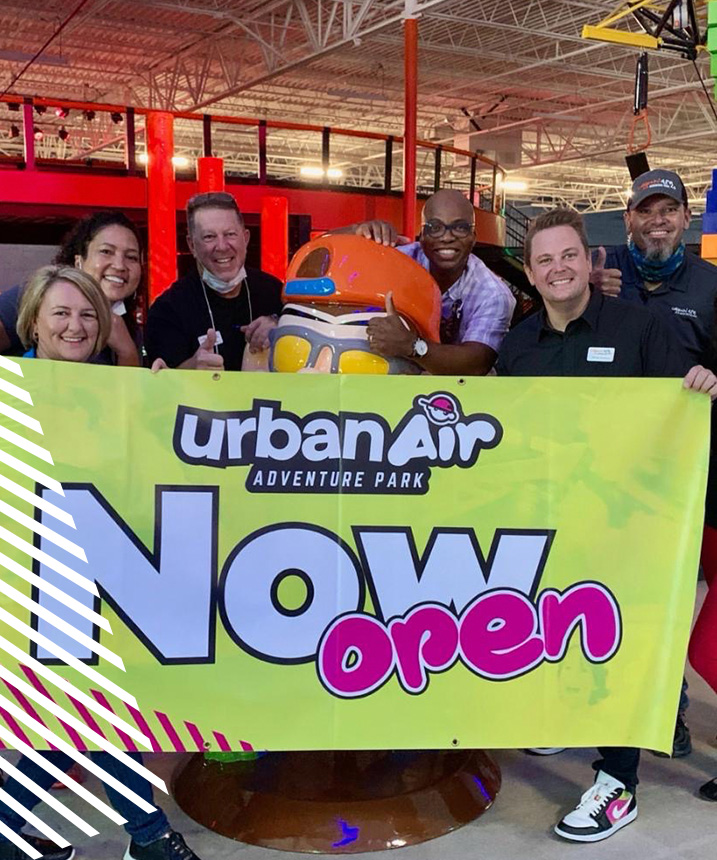 Part of the Unleashed Brands Family
Urban Air is all about helping children have fun in a safe and supportive environment, and we are committed to doing everything we can to provide our franchise owners with everything they need to deliver exactly that. We're proud to be a part of the Unleashed Brands platform with several sister brands dedicated to helping kids learn, play and grow. This partnership provides our franchise owners with access to even more resources and support, leading to more growth and opportunities for you and the community you serve. This is just the latest chapter in our exciting journey. We can't wait for you to join us for the ride.
We're looking for bright individuals who want to get into the business for fun. If that sounds like you, we'd love to hear from you!