by: John W.C. Robinson
"What's crazy is, as a kid, I played a lot of Roller Coaster Tycoon and built my own theme parks," smiled Michael Browning, CEO of Urban Air Adventure Parks. "It's crazy that I get to do what I loved doing as a kid through that game, but in real life. It's like a dream." Amusement Today Magazine Features CEO Michael Browning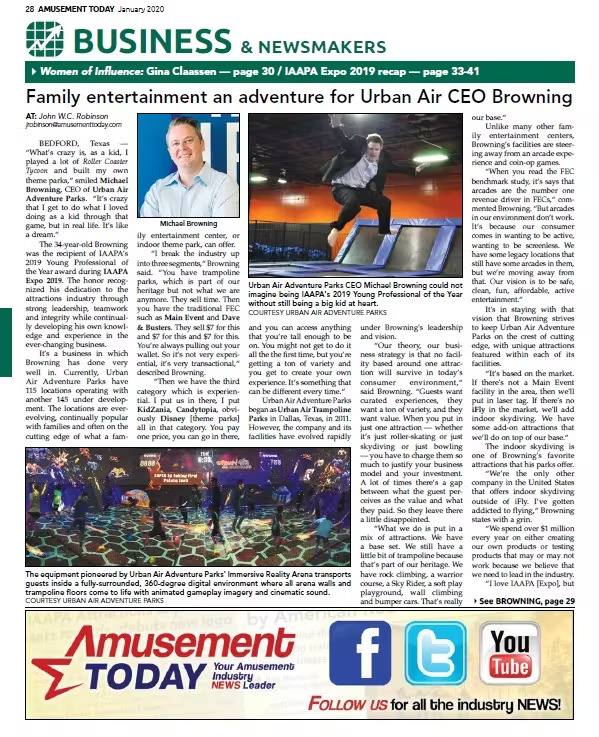 The 34-year-old Browning was the recipient of IAAPA's 2019 Young Professional of the Year award during IAAPA Expo 2019. The honor recognized his dedication to the attractions industry through strong leadership, teamwork and integrity while continually developing his own knowledge and experience in the ever-changing business. It's a business in which Browning has done very well in. Currently, Urban Air Adventure Parks have 115 locations operating with another 145 under development. The locations are everevolving, continually popular with families and often on the cutting edge of what a family entertainment center, or indoor theme park, can offer.
"I break the industry up into three segments," Browning said. "You have trampoline parks, which is part of our heritage but not what we are anymore. They sell time. Then you have the traditional FEC such as Main Event and Dave & Busters. They sell $7 for this and $7 for this and $7 for this. You're always pulling out your wallet. So it's not very experiential, it's very transactional," described Browning.
"Then we have the third category which is experiential. I put us in there, I put KidZania, Candytopia, obviously Disney [theme parks] all in that category. You pay one price, you can go in there, and you can access anything that you're tall enough to be on. You might not get to do it all the the first time, but you're getting a ton of variety and you get to create your own experience.
It's something that can be different every time. Urban Air Adventure Parks began as Urban Air Trampoline Parks in Dallas, Texas, in 2011. However, the company and its facilities have evolved rapidly under Browning's leadership and vision.
"Our theory, our business strategy is that no facility based around one attraction will survive in today's consumer environment," said Browning. "Guests want curated experiences, they want a ton of variety, and they want value. When you put in just one attraction — whether it's just roller-skating or just skydiving or just bowling — you have to charge them so much to justify your business model and your investment. A lot of times there's a gap between what the guest perceives as the value and what they paid. So they leave there a little disappointed.
"What we do is put in a mix of attractions. We have a base set. We still have a little bit of trampoline because that's part of our heritage. We have rock climbing, a warrior course, a Sky Rider, a soft play playground, wall climbing and bumper cars. That's really our base." Unlike many other family entertainment centers, Browning's facilities are steering away from an arcade experience and coin-op games.
"When you read the FEC benchmark study, it's says that arcades are the number one revenue driver in FECs," commented Browning. "But arcades in our environment don't work. It's because our consumer comes in wanting to be active, wanting to be screenless. We have some legacy locations that still have some arcades in them, but we're moving away from that. Our vision is to be safe, clean, fun, affordable, active entertainment."
It's in staying with that vision that Browning strives to keep Urban Air Adventure Parks on the crest of cutting edge, with unique attractions featured within each of its facilities.
"It's based on the market. If there's not a Main Event facility in the area, then we'll put in laser tag. If there's no iFly in the market, we'll add indoor skydiving. We have some add-on attractions that we'll do on top of our base."
The indoor skydiving is one of Browning's favorite attractions that his parks offer.
"We're the only other company in the United States that offers indoor skydiving outside of iFly. I've gotten addicted to flying," Browning states with a grin.
"We spend over $1 million every year on either creating our own products or testing products that may or may not work because we believe that we need to lead in the industry."
"I love IAAPA [Expo], but floor, I'm already too late. A lot of what I do at IAAPA [Expo] is looking for trends. The stuff that puts us to the leading edge of technology and innovation, we have to be finding before IAAPA [Expo]."
One the company's latest innovations, currently testing at one of the company's Wisconsin locations, is a dual racing Sky Rider. Urban Air Adventure Parks' popular Sky Rider attraction works as a rail-based zipline over other attractions in the facility and around the location. Browning and his team have developed the dual version as a way for guests to interact with one another and compete in a combination race course and Sky Rider experience.
"One of my favorite experiences when I was at Atlantis in the Bahamas was that my daughter and I could race one
another on the pyramid slide," stated Browning. That experience helped inspire the new attraction. "We'd have [guests on Sky Rider] just fly around inside the park. We would operate them like an amusement ride with blocks throughout and with a slide trigger system. When the light turns green, the next person would go, so we'd have multiple people in the same course already. But, we wondered, what if we could make it where they could race each other?"
Testing and developing possible new attractions are part of what Browning's corporate-owned Urban Air Adventure Parks does for the company's franchisees.
"I think the esports industry is here to stay. More people watched the League of Legends Championship than watched the NBA Finals, and it gets crazy. We bought a great esports product, we spent about $250,000 on that product to test it and, in our environment — the same as arcades — esports didn't work. At the franchisee conference last April, our franchisees were seeing it and it's beautiful. And they wanted it. But I urged them 'Guys, it looks good, but will it perform good? Or great?' It didn't work for a lot of different reasons. But we saved the franchisees from risking $250,000 of their money, and we risked it."
Browning's willingness to take risks and innovate earned Urban Air Adventure Parks recognition as a finalist for the Best Innovation of 2019 Golden Ticket Award with the successful launch of the world's first Immersive Reality Arena, featuring patented gaming engines and hardware products that allowed guests to literally get in the game.
The company's knack for breaking new ground in the industry is not limited to attractions. Browning has helped pioneer operations innovations as well.
"We pivoted in 2017 to say, 'We're not going to sell time. We're not going to be an FEC and sell attractions.' Guests can pay one price tosget in," said Browning, but that was only the first step.
"After studying the data, we saw an opportunity for a membership program. Now, for one low monthly fee, the guests can come in unlimited times a year and access the attractions. Depending upon the tier that they sign up for, there can be food and beverage components associated with that. They're good at all Urban Air Adventure Parks across the country, and right now we're up to over 180,000 members as of today — and we just launched the program six months ago."
"We [also] made an initiative to get out of concession stands and into quick-service restaurants. I tell people now
that Urban Air is a mixture of Panera Bread and Wingstop, that's my vision. A good chicken sandwhich, a good salad, some great wings, we sell beer and wine. It's theme park food," commented Browning. "We want to be the place where you turn to your spouse and say 'Hey honey, what do you want to do fun with the kids this weekend?' and you'll say Urban Air. And 'let's just eat there because their food is decent and it's competitively priced.' That's what we're going for."
Even with being at the cutting edge of new ideas and concepts for the FEC market, Browning has made the customer a top priority.
"Mom is our customer and we try to do everything we can to make it mom-comfortable. Kids are easy to please when you have the best attractions on the planet. But mom wants to know that they're clean and that they're safe and that there's some type of benefit other than just having fun. They're socializing, they're problem-solving.
"Safety is the number one priority for us and it needs to be when you're serving 30 million guests in a year. The majority of injuries in the history of our company have come from the trampolines because people are jumping up and down. It's a very uncontrolled environment where you don't know their next move. The first thing we did was try to decrease 'double- bouncing.' In the trampoling industry, there are certain facilities that would have very long trampolines. On a long trampoline, you can't prevent double-bouncing, because it's one surface. We moved to 9-foot-by-9-foot square on our trampolines in our facilities a long time ago, because that takes away a lot of the double bouncing. We started there and we're always looking at ways to improve the experience because mom has got to feel that we love their kids and we want them to be safe."
With over 250 facilities open or in the planning stages, Urban Air Adventure Parks' family has grown considerably from its beginnings in Dallas. Browning, however, has found ways to keep that original vision shared throughout the franchisees and with all of the family's new members.
"We have an Urban Air University which is an online university, that is continuing to cast our vision. Vision, people, capital: I see that as my job as a CEO."
Having built Urban Air Adventure Parks from the ground up, Browning is a bit of an expert when it comes to vision and people. He uses that expertise continually as the company grows through new hires and franchisees.
"One of the first things we do when going through the recruitment process with franchisees is take them to the park. We spend a half a day at the park with them. We want to release the inner kid. It's in there, no matter your age. If the franchisee can't get in there and experience the attractions, have a good time, laugh and smile, then they can't be in this brand."
When expounding on the company's values, Browning offered: "We say we want [employees and franchisees] to be authentic. We're humble yet we stand out in a room. I think being curious is really important. We say [franchisees] have to be gritty, you have to solve problems. They have to be able to find joy in this."
For full article, please click here to go to the Amusement Today.