The Urban Air Adventure Park family prides ourselves on our diversity. Although our owners typically share a common set of traits, they also come from different backgrounds and are motivated by different things. Over the years, we've found that there are four main types of Urban Air franchise owners. If you're interested in launching a family entertainment destination in your local community, consider which franchisee profile fits you best.
Single Unit
If you're a first-time franchise owner or are completely new to the family entertainment industry, you'll most likely fall under our "single-unit owner" approval. Single-unit franchisees are interested in opening one Urban Air Adventure Park, usually in their immediate community.
Being a single-unit owner gives you the time and space to focus on learning the business and building strong connections with local customers. You'll be able to home in on what makes the business work and grow and to develop "tricks of the trade" while receiving corporate support.
Most single-unit Urban Air owners spend a lot of time working hands-on with their team when they first open their park. Over time, you can step back and run things from a higher level, giving you greater flexibility and work-life balance. If you're interested, you might be able to apply what you've learned to a second Urban Air location!
Meet Brandy, Single Unit Owner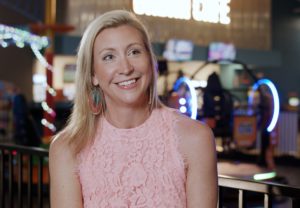 Listen to her story
Multi-Unit Owner
More savvy entrepreneurs and franchisees with ample business management experience might be interested in building their portfolio with multiple Urban Air locations. Multi-unit owners can sign on for multiple parks from the start or build up a portfolio of parks over time. Approximately 49% of Urban Air franchisees are multi-unit owners.
Multi-unit ownership requires franchisees to understand the ins and outs of marketing, sales and business operation. Once you understand the fundamentals of our business model, it's easy to apply what you know to multiple locations if you have the financial resources and time to manage multiple properties.
While your first location is likely to be in your local community, future parks can be in other locations. That's why nearly 50% of our parks are operated remotely (and with great success)! Leadership is key in multi-unit franchising with Urban Air. We want our owners to be able to lead a team, whether near or far, to maintain their business's growth.
Meet Cody, Multi-Unit Owner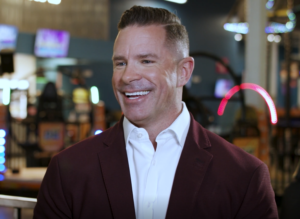 Listen to his story
Investor
Entrepreneurs who have the financial resources to purchase a business but lack the time or experience necessary to run that business might be interested in becoming an Urban Air investor. Our investors team up with local operators to co-run an Urban Air Adventure Park while diversifying their investment portfolio.
Investors typically fill a remote role in the business, buying in markets apart from where they live. They provide the capital and business expertise required to get one or more Urban Air locations off the ground.
Many Urban Air investors own multiple locations across the country, working with local operating partners to grow each park. This allows investors to run or work for other businesses full-time while building wealth through Urban Air franchise ownership.
Meet Ken and David, Investors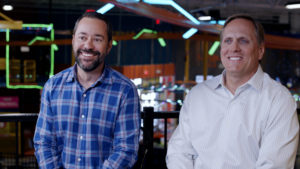 Listen to their story
Operator
Aspiring entrepreneurs who lack the financial resources necessary to purchase their own Urban Air Adventure Park may have a path to ownership by partnering with an investor. Park operators are extremely devoted to the Urban Air mission. They love kids and community and want to run a business that gives families space to play and grow. However, they also have the business acumen required to launch and grow a business.
Running an Urban Air Adventure Park is typically an operator's sole focus and full-time job. Operators partner with investors to grow a franchise in their local community. You can find an investor partner on your own, or our franchising team might be able to pair you with one.
Meet Lauren, Operator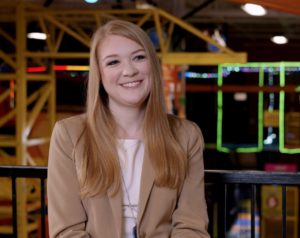 Listen to her story
Learn more about Urban Air franchise opportunities
The Urban Air franchise model gives aspiring owners flexibility to make their business dreams a reality. Whether you're a first-time franchisee opening your first-ever location or an investor looking to open multiple locations nationwide, we're here to support you.
Ready to learn more about how you can make a living and serve your community with Urban Air? Fill out our franchise contact form to be connected with a representative!