Husband-and-wife team Rachelle Nurse and Dr. Joseph Goodly from Texas wanted an opportunity to build wealth for their family. Despite lucrative careers in health care as a nurse practitioner and physician, the couple decided, after networking with successful business owners in their circle, that they too wanted a piece of the entrepreneurship dream.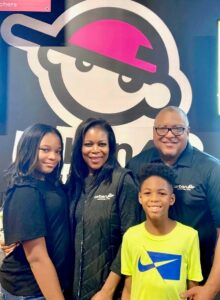 Rachelle shares, "Candidly, one of the things that really pushed us forward, was that our kids went to private school, and we would meet very wealthy individuals and ask them "how do you all have money like this?" We all went to college, had a number of degrees between us, but they were clearly more successful. We started asking ourselves; what's different? Every single one of them were business owners. Their candor and transparency about their business dealing and what they owned made us realize we're missing out on something."
The couple knew their community needed a children's entertainment option, and after being exposed to Urban Air in 2017 at a party, they began their research. Today, the couple owns multiple locations.
Check out their full story as featured in Black Enterprise.