Thinking about adding some adventure to your life—and taking advantage of a great financial opportunity—by opening your own Urban Air Adventure Park? As one of the fastest-growing franchises in the country, we offer franchisees the chance to give members of their community the experience of a lifetime.
While providing kids and adults alike with nonstop fun is a reward in and of itself, we know that, at the end of the day, businesses exist to make money. One of the key revenue-generating elements of every Urban Air Adventure Park are birthday parties. When it comes to birthdays, our customers know our owners go all out and do it right! Here's how our innovative approach to birthday parties makes them so special and why they're an important part of your location's bottom line.
We help customers create amazing birthday memories
Throughout the country, Urban Air Adventure Park locations have been changing the game when it comes to birthday parties. We specialize in creating experiences that kids will always remember. Not only do we have exciting attractions that kids won't find anywhere else—including indoor skydiving, laser tag, APEX trampolines and much more—but we also have delicious food right on site in our Urban Air Casual Café. Families love our birthday party packages because we take care of every detail for them, from setup and hosting, to entertainment and cleanup.
Birthday parties are a huge revenue stream for our franchisees. Customers know that we have the best in memorable entertainment—our attractions practically sell themselves! We know how to get kids excited for their special day, and that's reflected in the consistent demand for our birthday party packages.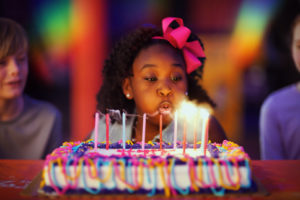 Innovating and rebounding in challenging times
While no business was spared the effects of the global COVID-19 pandemic, Urban Air's franchise locations have made an amazing recovery in terms of reservations. We're currently breaking birthday party booking records – including pre-COVID performance numbers – systemwide!
After a year spent at home, we've seen incredible demand for our active play, celebratory experiences for kids, their friends and families. Kids want to get back to playing again, and parents are all too ready to let them burn off some steam outside of home. As an Urban Air franchisee, you can help them do just that—and do it safely.
Our new COVID-19 protocols make safe play and partying possible. With health and sanitation measures firmly in place, we're poised to emerge from the pandemic stronger and more energized than ever! Below is just a sample of our COVID-19 safety protocols at Urban Air locations across the country:
Encouraging social distancing through team member training and visual aids to guide guests for queuing
Mask wearing and daily temperature checks for all team members
Limiting capacity in the facility and on attractions
Sanitizing surfaces and air purification, including Residual Antimicrobial Technology
Minimizing contact by using online reservations and payment, as well as touchless food service
At Urban Air, we're all about innovating and providing the best experiences for our guests. We know that success in business can take some adjustment to unforeseen circumstances. When you invest in our franchise system, we provide guidance every step of the way, no matter what kind of unexpected situations arise.
Make a positive impact on your community and your finances
If you have an interest in bringing joy to your community, we want to talk with you regarding our franchise opportunities. At Urban Air, we're in the people business—our mission revolves around bringing active play to our communities in a safe way. Contact us today to learn more about our franchising opportunities and see how our innovative approach to fun and play can help you change the lives of people in your community, all while making a profit.